What does your daily routine look like?
"A truly effective (daily) routine is always personal – a snug fit with your own talent and inclinations. You'll know it's effective when your daily schedule starts to feel less like a mundane routine and more like a creative ritual." – Mark McGuinness
I've experimented with hundreds of daily routines over the years and found the following schedule to be the most effective for me – see the notes section below for further details (hopefully this schedule can give you some ideas for your own daily routine):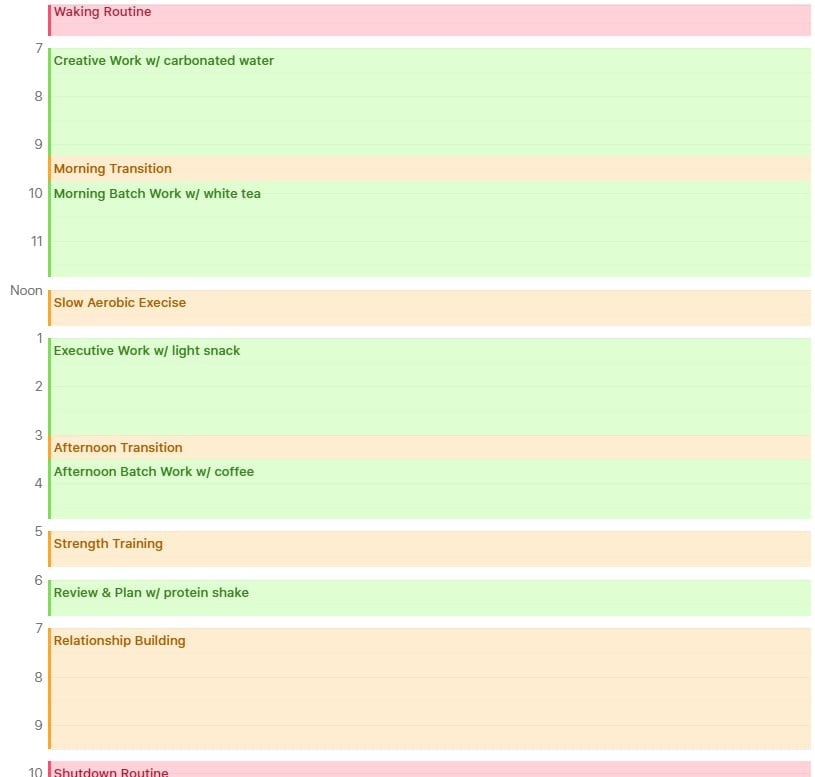 *RED represents my 'bookend' routines: my morning routine & nighttime routine
*GREEN represents my focused work blocks.
*ORANGE represents my restorative downtime. These are work breaks that restore my mental energy and prepare me for the next focus block.  These vary based on my location each day.
BUFFERS: There are 15-minute gaps between sessions to account for the time needed to organize, transition, engage in spontaneous conversation or deal with unexpected events.
Calendar List View: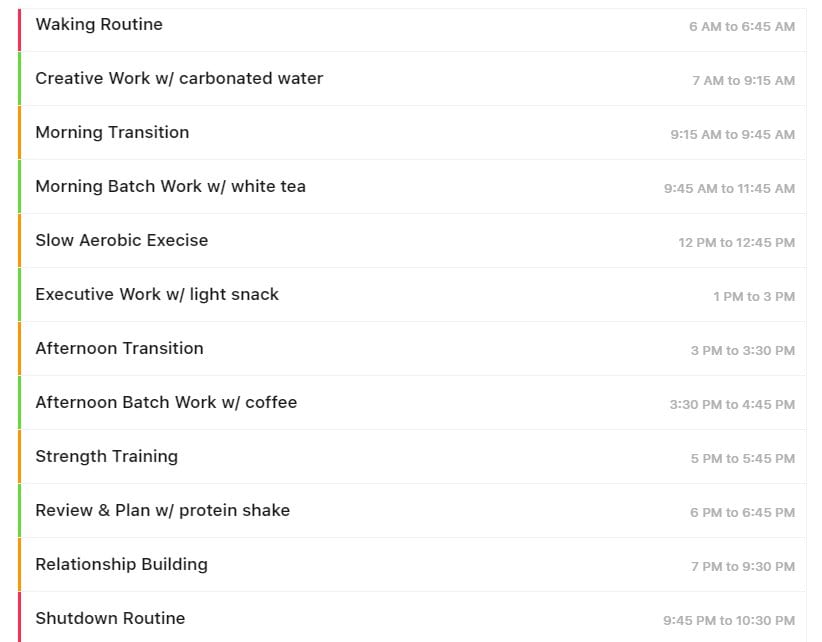 WHY I do what I do:
In the early hours of the day my focus is relaxed and new ideas are easier to come by. This is the best time to do Creative Work (planning, writing or designing).
I drink Carbonated Water (Perrier or San Pellegrino) to stay hydrated and energized. The carbonation (CO2 content) increases oxygen delivery to cells and enhances focus (read the following article by Dr. Ray Peat detailing the research behind CO2 consumption and human performance).
After my morning work session, I Transition to an office or cafe.  A new environment resets my attention and increased my ability to focus.  I use the transit time to listen to music and take my mind off work.
Morning Batch Work involves tasks that don't require creative thought.  This may include admin work, errands, organization, editing, and responding to emails.
I drink White Tea because of it's marginal caffeine content and taste.  The act of having something to sip on while working is somewhat meditative.
Slow Aerobic Training is the best method I know for sustaining my focus in the afternoon and enhancing decision-making later in the day.  Read this summary of 'Spark' for more details.
Executive Work involves key decision-making and critical meetings/discussions.  I find I can communicate most effectively in the afternoons.
I consume a Light Snack in the early afternoon (few tablespoons of almond butter or salted nuts) to suppress my hunger but not feel full.  The ideas is simply to hold off my hunger until I can get my afternoon coffee. Avoid a large meal maintains my mental focus into the afternoon.
My Afternoon Transition is another chance to reset my attention and boost my focus.
Afternoon Batch Work involves falling back into 'reaction mode'.  This is grunt work necessary to make progress before the end of the work day. During this time I'll review documents, execute simple tasks and respond to emails from earlier in the day.
I drink Coffee in the afternoon to accelerate fat loss and boost mental clarity.  By avoiding coffee until the afternoon I allow my morning cortical levels to naturally rise and fall. Having coffee in the morning artificially raises your cortical levels thus reducing the amount of cortisol you naturally release over time – making you dependent on coffee to wake up in the morning.
My Strength Training includes one exercise of 5 sets for 5 reps. I lift the weight that would allow for 1 more rep at the end of each set (method proposed by strength coach Pavel Tsatsouline). My go-to exercises are deadlift, squat, and free-weight bench press. I have found strength training to be the best way to reset my mental stress and allow me to be productive the following day.
During my Review & Plan session will I'll go through the work I've done that day and establish my intended outcome for tomorrow.
My Protein Shake includes whey protein with some extra BCAA to prevent mental fatigue, repair muscle and improve concentration (read more about the benefits of BCAA here).
My Relationship Building time might involve cooking at home with my girlfriend or going out for dinner with friends. The purpose of this time is to strengthen relationships.