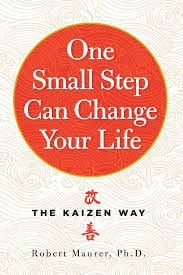 One Small Step Can Change Your Life by Robert Maurer 
Are you struggling to make big changes in your personal or professional life?
Watch the following video to see how psychologist Robert Maurer uses a Japanese manufacturing philosophy called kaizen to help his patients achieve big changes in their lives.
"Japanese corporations have long used the gentle technique of kaizen to achieve their business goals and maintain excellence. Now this elegant strategy can help you realize your personal dreams." – Robert Maurer, Ph.D.